The State HAZMAT Team (VHMRT) trains as a group two days out of every month.  These monthly trainings are designed to not only keep the Team certifed at the Technician level but also to improve efficiency and competency among all Team members.  Topics covered range from chemistry, radioloigical emergecnies, flammable liquids & gases, NIMS/ICS, decontamination, chemical protective clothing, SCBA and identification and classificaiton of unknwon substances.
In addition to this ongoing training, team members participate in specialized training, exercises, and advanced radiological and advanced Technician work.. 
Some of these training sessions include joint training with the Decon Trailer Teams, Vermont State Police Clandestine Drug Lab Team, and Civil Support Team (CST).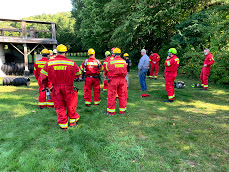 ​