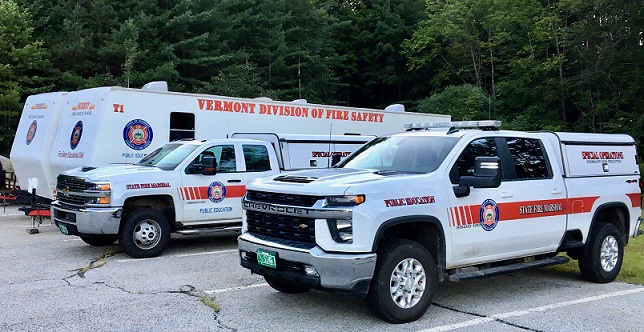 The Public Education and Information Section participates in a range of programs focused on fire prevention and safety issues. The section has mobile interactive educational tools that are available to fire departments and other community groups at no cost.
The Division's Public Education staff will provide the delivery of the equipment as well as training for firefighters who will be running the program. In some cases DFS staff may be able to provide additional assistance during the event.
Public Education Equipment Request Forms
---
 T1 / T2 - VERMONT FIRE SAFETY HOUSE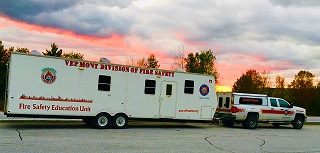 We have two Vermont Fire Safety House Trailers that are designed as mobile fire safety classrooms. They include many common hazards you may find in a home. Both trailers contain fire safety skills stations where all ages use "hands on practice" to learn how to eliminate fire hazards.
The Vermont Fire Safety House is a wonderful interactive educational tool that's has been proven to be very effective in delivering fire and life safety messages to a variety of ages.
The trailers book up quickly so don't delay in submitting your request.
FORMS and RESOURCES
VT Fire Safety House – Education Station lessons / Guide       VT Fire Safety House - Quick Reference Guide
VT Fire Safety House Students Permission Slip       USFA Fire Safety Trailer Curriculum
 
---
T3 - VERMONT HOT BOX - Fire Sprinkler and Fire Extinguisher DEMO TRAILER
The "Hot Box" is a new multi-use fire sprinkler and fire extinguisher live fire safety demo trailer. This mobile unit is used for educating the public and contains a residential sprinkler system that can be used to demonstrate how a home sprinkler system works during a fire . This unit is also used for hands-on environmentally friendly fire extinguisher training with live fire.
 
---
DALMATION and SPARKY COSTUMES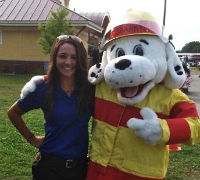 Dalmatian Fire Dog Costume - Our Dalmatian costume is sure to fit your fire prevention program needs.
Sparky the Fire Dog® Costume - Sparky is the best-know figure in fire prevention today. A trademark character of the National Fire Protection Association (NFPA),  Please note there are some restrictions on the use of the sparky costume. 
The costumes will make your fire safety education program fun and effective for teaching fire and life safety to children.
---
Tabletop Hazard House 
The Hazard House is a portable tabletop fire safety simulator. Using the hazard house you can teach how to turn a hazardous home into a safe one. This unit is wonderful for home safety lessons during the winter time or in the classroom. The audience participates in transforming the house from hazardous to safe through the use of several 3D parts, flips, tokens, and stick-on illustrations.
---
FIRE SAFETY DISPLAY ITEMS

We have a lot of portable display items that can be used to set up a fire safety booth at your local event. Items include banners, flags, tents, tables, large video screens and PA system. We also have a variety of pre made fire prevention and safety information display boards.
---
SMOKE AND CO ALARMS DISPLAY
The smoke alarm display is a table top display board that shows many different types of home smoke and CO alarms.  The home fire alarm display is a a  display that has a working home fire/security alarm system.
---
DVDS, BOOKS, CURRICULUM, EDUCATION KITS AND OTHER RESOURCES 
The Division has a growing collection of fire safety education books, manuals, video tapes, DVDs, education curriculum, education kits and other resource materials which are available at the main office in Berlin Vermont.
Fire Departments and injury prevention educators are able to sign out various resources to help facilitate teaching of fire and life safety lessons.
Please Note  ~ some items may not be signed out of the office due to their historic value.