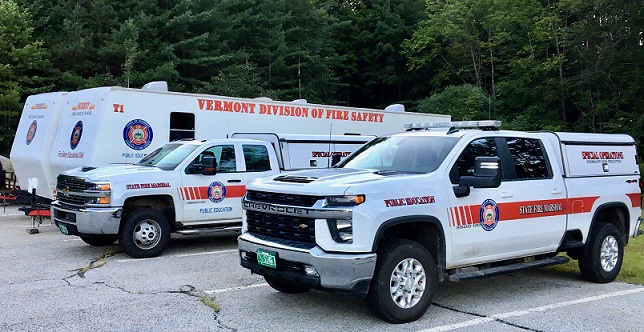 Fire departments and nonprofit groups are able to sign out various educational equipment and props to help facilitate teaching of fire and life safety lessons at no cost.
The Division's Public Education staff will provide the delivery of the equipment as well as training for firefighters who will be running the program. In some cases DFS staff may be able to provide additional assistance during the event. But remember, this is your event, and you should have local firefighters on hand to conduct the program. It's always better to have local firefighters teach the lessons. 
Equipment General Guidelines
All requests must be made at least 30 days in advance.

All requests are handled on a first-come, first served basis.

In the event that an emergency arises, or extreme weather is forecast during the time of the scheduled event, the Pub Edu Office may be forced to cancel, however we will attempt to give as much notice as possible.
---
Equipment Request and Event Report Forms for all equipment 
---
---
 T1 / T2 - VERMONT FIRE SAFETY HOUSE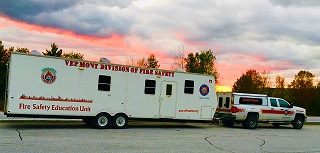 The Divisions VT Fire Safety House program has been in place for almost 30 years and has helped teach generations of kids and adults to be safe at home.
We currently have two Vermont Fire Safety House Trailers that are designed as mobile fire safety classrooms. They include many common hazards you may find in a home.
Both trailers contain fire safety skills stations where all ages use "hands on practice" to learn how to eliminate fire hazards or escape from a fire.  Topics include home escape plans, crawling low under smoke, common fire hazards in the home, how to contact the fire department. Fire Safety Trailer Curriculum, instructor guides and some handouts are included. The Vermont Fire Safety House has been proven to be very effective in delivering fire and life safety messages to a variety of ages. The trailers do book up quickly each year so don't delay in submitting your request. 
RESOURCES
---
T3 - VERMONT HOT BOX - Fire Sprinkler and Fire Extinguisher DEMO TRAILER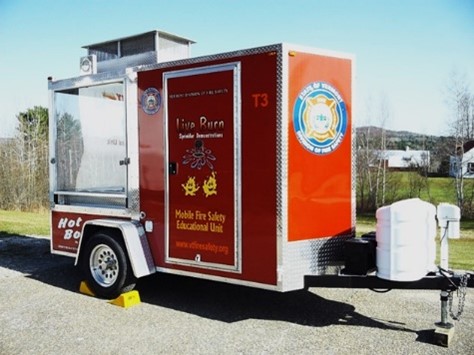 The "Hot Box" is a new multi-use fire sprinkler and fire extinguisher live fire demonstration trailer. This trailer is used as a fire sprinkler demonstration unit and a fire extinguisher training unit all rolled into one.
This mobile unit is used for educating the public to prop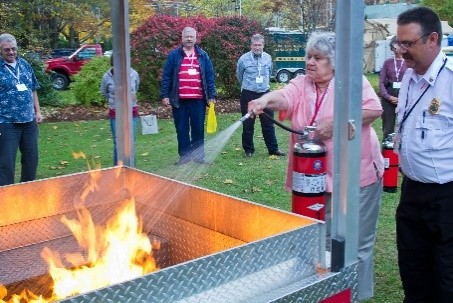 erly use fire extinguishers and contains a residential sprinkler system that can be used to demonstrate how a home sprinkler system works during a fire. This unit is also used for hands-on environmentally friendly fire extinguisher training with live fire. The extinguisher training includes a LP Gas burner hydro tank and special training fire extinguishers that can be recharged with onboard tap water.
Special Note - This unit should not be used to teach young kids - NFPA believes that children should not be trained in how to operate portable fire extinguishers. Teaching children to use portable fire extinguishers runs counter to NFPA messaging to get out and stay out if there is a fire. Furthermore, children may not have the maturity to operate a portable fire extinguisher properly or decide whether or not a fire is small enough to be put out by the extinguisher.
RESOURCES
---
DALMATION and SPARKY COSTUMES
Dalmatian Fire Dog Costume - Our Dalmatian costume is sure to fit your fire prevention program needs.
Sparky the Fire Dog® Costume - Sparky is the best-know figure in fire prevention today. A trademark character of the National Fire Protection Association (NFPA), Please note there are some restrictions on the use of the sparky costume. 
The costumes will make your fire safety education program fun and effective for teaching fire and life safety to children.
RESOURCES
---
TABLETOP HAZARD HOUSE 
The Hazard House is a portable tabletop fire safety simulator. Using the hazard house, you can teach how to turn a hazardous home into a safe one. This unit is wonderful for home safety lessons during the wintertime or in the classroom.
The audience participates in transforming the house from hazardous to safe through the use of several 3D parts, flips, tokens, and stick-on illustrations.
Despite its impressive size once deployed, the Hazard House fire safety simulator remains compact during transport. Whether in a classroom, office or at an outdoor event, simply roll it around, set it up and help people learn how to prevent accidents!
RESOURCES
---
HAZARD KITCHEN
Demonstrate the dangers associated with unsafe cooking.  The Hazard Kitchen fire safety simulator offers powerful teaching aids. The Hazard Kitchen fire prevention simulator acts as life-size stovetop and countertop. Realistic special effects, include as a simulated red hot electrical element, burning pot, to help teach high-risk groups such as seniors and children how to prevent cooking fires. A battery backup even allows you to carry the still-burning pot… to better demonstrate not to move the pot.  
RESOURCES
---
LARGE EVENT FIRE SAFETY DISPLAY ITEMS

We have a lot of portable display items that can be used to set up a fire safety booth at your local event. Items include banners, flags, tents, tables, large video screens and PA system. We also have a variety of premade fire prevention and safety information display boards. SMOKE AND CO ALARMS DISPLAY - The smoke alarm display is a tabletop display board that shows many different types of home smoke and CO alarms.  The home fire alarm display is a a  display that has a working home fire/security alarm system.
---
PE T 4 - FIRESAFE 802 –  EVENT TRAILER AND DISPLAY 

 THE FIRE SAFE 802 event trailer comes with displays, alarms and the tools you will need for your installation event. 
the smoke alarm display that shows many different types of home smoke and CO alarms.  and has a location where people can practice installing alarms 
---
DVDS, BOOKS, CURRICULUM, EDUCATION KITS, HANDOUTS AND OTHER RESOURCES 
The Division has a growing collection of fire safety education books, manuals, video tapes, DVDs, education curriculum, education kits and other resource materials which are available at the main office in Waterbury Vermont. Fire Departments and injury prevention educators are able to access various resources to help facilitate teaching of fire and life safety lessons.
Please Note  ~ some items may not be signed out of the office due to their historic value.