Vision 20/20 Fire Safety Materials Generator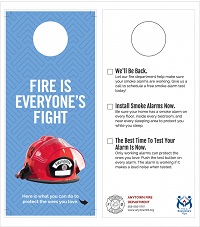 Using this new tool, you can generate customized door hangers, fliers and activity guides using proven fire safety messages with your logo and information that you can then download and print out.
Vision 20/20 Home Safety Visit Resources
Home safety visits are a proven way of improving the level of fire safety in the community. It is an opportunity to reach out to the residents, teach them about fire-safe practices, test and install smoke alarms.
 Guide to Home Safety Visits and a companion video demonstrate best practices for home safety visits.
 
U.S. Fire Administration (USFA) Fire Prevention and Public Education

The U.S. Fire Administration (USFA) develops and delivers fire prevention and safety education programs in partnership with other federal agencies, the fire and emergency response community, the media, and safety interest groups.  Help your fire department increase community awareness about preventing home fires through Fire is Everyone's Fight™ and with these free fire safety and prevention outreach materials and educational programs.
U.S. Fire Administration Outreach Materials
                   Children         College Students      Older Adults        People with Disabilities 
National Fire Protection Association (NFPA)
As part of NFPA's commitment to eliminate fire deaths and injuries through effective public education programs and information, NFPA strives to be the source for fire and life safety information. With help from our official mascot, Sparky the Fire Dog®, and our national outreach efforts, like our public education advisors, public education network, Remembering When™ program, Learn Not to Burn® programs, and our annual Fire Prevention Week campaign, NFPA is helping to make the world a safer place. Strategies are integrated throughout our programs to reach those at highest risk including young children, older adults, people in low-income communities and people with disabilities.