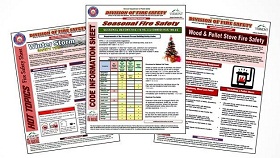 The purpose of these sheets are to provide additional information about the requirements of the codes. While the Department relies on a consistent set of standards and adopts national codes, there are many classifications within these codes as well as many unique situations. Specific questions should be directed to your local DFS regional office.
We are constantly reviewing and updating the information on these sheets,  If you have any questions please contact your local Division of Fire Safety Office.
---
HIGHLIGHTED INFORMATION SHEETS
Image
---
CODE INFORMATION SHEETS
Barbecue Grills Requirements -  Information about cooking grills on decks and storage of propane cylinders.      
Carbon Monoxide Alarms - General information requirements about CO alarms
Emergency Egress Windows  -Minimum size requirements for egress windows used as a secondary means of escape.
Fireworks Safety  -General information and Vermont laws regarding fireworks.
Handrails and Guards - Size and height requirements for handrails and guards.
Key Box  - Requirements of the Key-Box system
Smoke Alarms - General information requirements about smoke alarms.
Tampering with Smoke & CO Alarms - Information on tampering with fire safety equipment. Tenant and landlord responsibilities. 
Vermont Codes and Standards - About the fire, life safety and building codes and other standards adopted in Vermont.