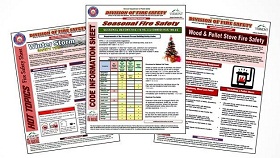 The purpose of these sheets are to provide additional information about the requirements of the codes.
While the Department relies on a consistent set of standards and adopts national codes, there are many different classifications within these codes as well as many unique situations. Specific questions should be directed to your local DFS regional office.
Due to the adoption of the 2015 Fire and Building Safety Code many of the  Code Information Sheets below are out of date and currently under review and correction . We will soon have the new versions availble for you,  links will be reestablished at that time. If you have any questions please contact your local Division of Fire Safety Office .
CODE INFORMATION SHEETS