Welcome to the Vermont Fire Academy Home Page
The Vermont Fire Academy is based in Pittsford, VT with a primary focus of delivering training to responders throughout the state.  This website is used to distribute timely course information and is updated on a continual basis, so please check back frequently and feel free to contact us with any questions you have. 
Keep up to date with all of our course announcements and news by joining our e-mail list. 
Vermont Fire Academy Planning Survey
The Vermont Fire Academy is seeking input from Vermont firefighters to assist in improving our services and planning for our future training efforts. Please help us by completing this short survey and encouraging fellow firefighters to complete it as well. Your feedback is very important to planning our future and will help to steer future courses and programs in your area. The more input we get, the better our results will be!
Click here to complete the survey.
Firefighter I and II Challenge Exam Opportunity
The Vermont Fire Academy has announced the following Firefighter I and II Challenge Exam Opportunities.  Click below for additional information:
Firefighter I Challenge Exam - June 5, 2018
Firefighter II Challenge Exam - June 7, 2018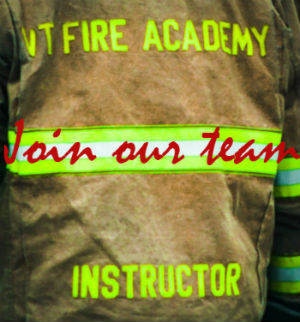 Instructors Wanted!
The Vermont Fire Academy is seeking qualified, experienced, and motivated individuals for the position of part-time Fire Instructor!  If you have a desire to keep your skills sharp and share your knowledge and experience with others, then we would like to hear from you.  We have a need for Fire Instructors in all regions of the State and are looking to grow our instructional team to meet local training needs.    Click here for more information.

2018 National Fire Academy Three State Weekend - Emmitsburg, Maryland
Weekend:  August 17 - 19, 2018
Application Deadline:  July 2018