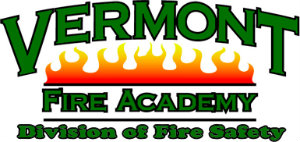 Welcome to the Vermont Fire Academy Home Page
The Vermont Fire Academy is based in Pittsford, VT with a primary focus of delivering training to responders throughout the state.  This website is used to distribute timely course information and is updated on a continual basis, so please check back frequently and feel free to contact us with any questions you have. 
Keep up to date with all of our course announcements and news by joining our e-mail list. 
Firefighter I and II Challenge Exams
Individuals who have not completed an approved Vermont Fire Academy sanctioned Firefighter I or II Courses, but who feel they have obtained the necessary training by some other means; or whose previous certifications are more than 2 editions in arrears of the current NFPA 1001 standard, may challenge the Firefighter I or II Exams.   Follow the links below for more information.
Firefighter I Challenge Examination:
Location:  Vermont Fire Academy in Pittsford
When:  Monday, June 5, 2017
Time:  0900 until finished
Application deadline, Monday, May 22, 2017
Firefighter II Challenge Examination:
Location:  Vermont Fire Academy in Pittsford
When:  Wednesday, June 7, 2017
Time:  0900 until finished
Application deadline: Wednesday, May 24, 2017
Fire Officer I/II Course Announced
Location:   South Burlington Police Complex, (hosted by the South Burlington Fire Department)
Course Schedule:
Orientation: Tuesday, April 11, 2017 (0830 - 1700)
Week 1:  April 24 - 28 (0830 - 1700)
Week 2:  May 8 - 12 (0830 - 1700)
Week 3: May 22 - 26 (0830 - 1700)
Certification Exam: June 1 (0900)
Application Deadline: Close of Business on Monday, March 27, 2017
Space is limited to a maximum 15 students. Due to course demand, seats will be awarded to applicants based on fair department disbursement and the applicant's need for certification. An applicant's Chief or Training Officer may be consulted during the decision making process.  Applicants must submit a General Admission Application by the application deadline in order to be considered.
Prerequisites:  
Responder Hazardous Materials Operations Certification that qualified as current with NFPA 472.
Current National Certification in Firefighter II
Current National Certification in Fire and Emergency Services Instructor I 
NIMS Certification: ICS-200
This program provides the current Fire Officers and aspiring officers timely information that aids in the performance as a company officer. This educationally sound, objective-based course addresses and complies with the National Fire Protection Association Standard, NFPA 1021, Standard for Fire Officer Professional Qualifications, 2014 Edition.  Topics covered include developing the proper mind set, accountability and responsibility, cultural diversity, safety and wellness, crew resource management, public relations, functional leadership, incident command, affirmative action issues, budgeting process, strategic planning, and strategy and tactics.  The course also includes a research component where the participants complete 12 research projects on assigned topics based on their own fire departments protocol, policies and practices.  An additional 40 to 80 hours of course work is required in addition to the course hours listed above.
2016 National Fire Academy Courses to be Held in Vermont
Each year, the Vermont Fire Academy hosts National Fire Academy direct delivery courses in an effort to bring fresh, new courses to our responders without the long travel to the National Fire Academy.  The following course offerings are being presented around Vermont.  All classes will be held from 8:00 a.m. to 5:00 p.m. each day and are available at no cost.  Apply by submitting a General Admission Application to the Vermont Fire Academy by the application deadlines listed below.
Training Operations in Small Departments
Location:  Vermont Fire Academy - Pittsford
Course Date:  June 24 & 25, 2017
Application Deadline:  May 8, 2017
Fire Service Job Opportunities
Burlington Fire Department - Firefighter/EMT, AEMT, or Paramedic
Williston Fire Department - Firefighter/EMT - Application period closes March 31, 2017
Fire Service Notices
New England Division, International Association of Fire Chiefs - 2017 Annual Meeting:  March 23, 2017
Vermont Career Chiefs 2017 Seminar - Registration deadline is May 10, 2017