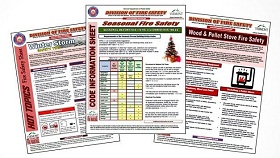 The purpose of this information and guidelines about the requirements of the codes.
While the Department relies on a consistent set of standards and adopts national codes, there are many different classifications within these codes as well as many unique situations. Specific questions should be directed to your local DFS regional office.
Due to the adoption of the 2015 Fire and Building Safety Code many of the  Code Information Sheets below are out of date and currently under review and correction . We will soon have the new versions availble for you,  links will be reestablished at that time. If you have any questions please contact your local Division of Fire Safety Office .
Barbecue Grills Requirements
Information about cooking grills on decks and storage of propane cylinders.
Carbon Monoxide Alarms
General information requirements about CO alarms
Carbon Monoxide Alarms Installation Matrix Sheet
CO alarms placement requirements.
Emergency Egress Windows 
Minimum size requirements for egress windows used as an secondary means of escape.
Fire Watch Requirements
Requirements and duties of a fire watch.
Fireworks Safety 
General information and Vermont laws regarding fireworks .
Handrails and Guards
Size and height requirements for handrails and guards.
Seasonal Decorative Items / Christmas Trees 
General information about seasonal decorative items by occupancy type.
Smoke Alarms 
General information requirements about smoke alarms.
Smoke Alarms Installation Matrix Sheet 
Smoke alarms placement requirements.
State Permit and Licensing Requirements 
When you need a state permit or license.
Tampering with Smoke & CO Alarms
Information on tampering with fire safety equipment. Tenant and landlord responsibilities. 
Vermont Codes and Standards
About the fire, life safety and building codes and other standards adopted in Vermont.
Requirements for Stairs
Code compliant stair details and requirements.