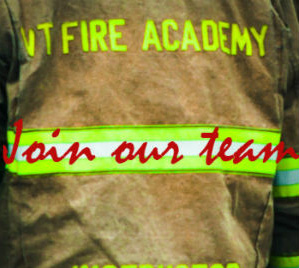 The Vermont Fire Academy is currently seeking applicants to fill temporary part-time positions of Assistant Site Coordinator. 
This position holds technical responsibilities for the Vermont Fire Academy. Responsible for assisting in maintaining the Vermont Fire Academy site and all its properties, vehicles, and equipment. Assists in support services for emergency training. Assists in delivery and pickup of training props and materials throughout the State. Periodically inspects and tests the site and equipment for safety and serviceability. Maintains security of the training site and its equipment. Performs related duties as required.  Works outdoors in all Vermont weather. May have to lift up to 100 pounds. May on occasion have to work with hazardous materials during support of training.  Work will primarily be based at the Vermont Fire Academy in Pittsford with some work occurring remotely.  Work is performed under the direction of the Vermont Fire Academy Site Coordinator.
The Assistant Site Coordinator position has hours scheduled in advance during daytime and evening hours on weekdays and weekends on an as-needed basis.  Hours may range from 4 to 16 hours per week.
Paygrade:  18 ($17.21 per hour)
Duty Station:  Pittsford
Knowledge, Skills and Abilities:
Knowledge of facility management.
Knowledge of firefighting equipment / facilities.
Abilities to perform minor mechanical repair, basic carpentry, small engine operation and maintenance, and fleet maintenance. 
Ability to perform safe trailer towing.
Ability to communicate both orally and in writing.
Ability to establish and maintain effective working relationships.
Education and Experience: 
High School graduation or equivalent.
Valid driver's license required, CDL preferred.
Knowledge of firefighting equipment preferred.
Application Process
If you are interested in applying for an Assistant Site Coordinator position, please submit a letter of interest along with your current resume that details your and qualifications for this position.
Email or mail the above information to:
Michael Skaza, Training Program Coordinator
Vermont Fire Academy
93 Davison Drive
Pittsford, VT 05763
E-mail:  michael.skaza@vermont.gov
Candidate interviews will be conducted for selected individuals. Multiple positions may be filled from this posting.  The Vermont Fire Academy may continue to accept additional applicants until an adequate number of Assistant Site Coordinators are hired to meet the current need.   Fingerprinting and successful completion of background checks are required by the Vermont Department of Public Safety prior to hire.